*Best read if listening to "All I Want For Christmas Is You" by Mariah Carey [pre- Nick (baby barf) Cannon]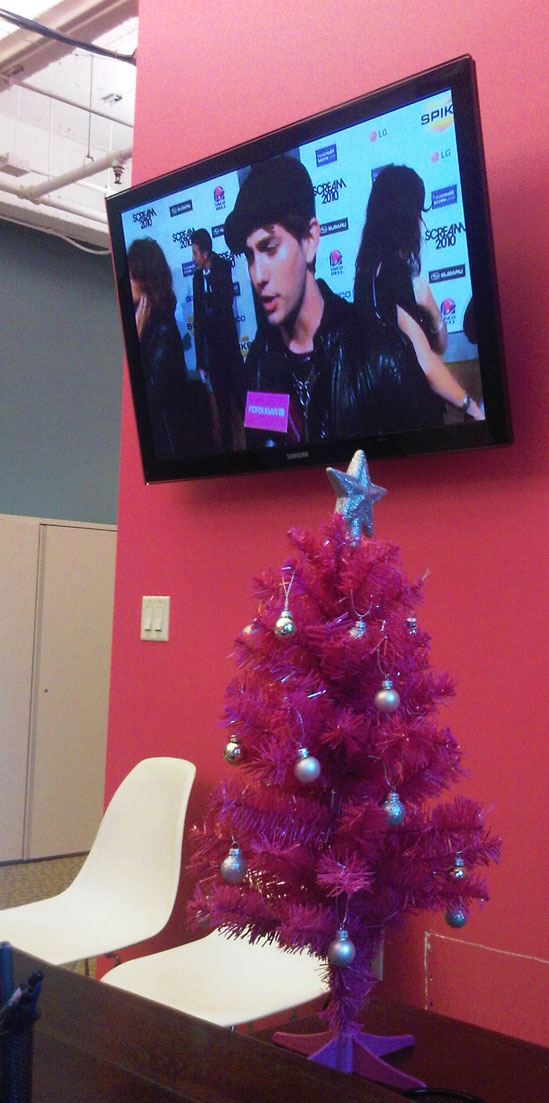 Sanasaaaa!!! It's that time again. My favorite time of the year. Even though I start listening to Christmas music in July (my friends don't get annoyed... I promise), it is SO much better to have the whole feeling of Christmas around instead of just the music. Today is the first day of December and I already feel the love. Everything seems so much brighter during Christmas time. I'm not sure why my love of Christmas out shines 99.9% of the population, but I find it extremely endearing - as should you.
I've already decorated my apartment, purchased my mulling spices (thanks AReed), started buying presents, and even found the most amazingly perfecto pink tree for my desk... Yay Sugar Christmas! I'll be sporting all the red and green I can from now until December 26th, which I believe is the saddest day in all the land :tear: But forget about the 26th, it's only the 1st, I have the WHOLE month to be Mother Christmas! After my heavenly ham-filled Thanksgiving, Monie V sent me home with a new Christmas candle and a one-of-a-kind Santa's sleigh blanket... yes ladies and gentlemen Santa is real. I have SO much to be thankful for this holiday, can't wait to spread the joy!
**Mis favoritos música de Navidad...
"Christmas Shoes" - Bob Carlisle
"This Christmas" - Christina Aguilera
"Last Christmas" -Wham!
"Where Are You Christmas" - Faith Hill
"And So This is Christmas" - John Lennon
"My Grown Up Christmas List" - Kelly Clarkson
"I'll Be Home For Christmas" - 'N Sync
"Love's in Our Hearts on Christmas Day" - 'N Sync
"Wonderful Christmas Time" - Paul McCartney
"It's Christmas All Over Again" - Tom Petty
"Carol of the Bells" - Mannheim Steamroller
"What Christmas Means to Me" - Jessica Simpson (pre- I got engaged a week after my ex-husband because I hate being alone even though I have only been dating my "fiance" for 6 months)
"Let it Snow" - Michael Buble
"Christmas Must Be Something More" - Taylor Swift
"Jingle Bell Rock" - Rascal Flatts
"Have Yourself a Merry Little Christmas" - Frank Sinatra
"O Come All Ye Faithful" - Josh Groban
"Santa Baby" - Eartha Kitt
"It's the Most Wonderful Time of the Year" - Andy Williams
I expect everyone to buy them on iTunes (shout out to Apple - send me some iTunes giftcards) then we can have a Christmas themed kareoke sesh. Perf!
HAPPY HOLIDAYS!
XoXOXxx
*Editor's note: Dad you only have one job - make sure to put up ALL the Christmas lights. I don't want any of this rif-raf just the bushes business. I want to see the icicles on the roof, moving (creepy) reindeer, the fat santa, etc. Don't let me down, or you won't be spending future holidays at my Tahoe house. Kay? La la looooove you!
** Bet you didn't know I was bilingual did you?! Boom in yo face! Muah ha ha! Okay fine... I put that phrase into iGoogle translator. Whatever. It sounds much more sophisticated :)